Teams
06 Apr 2021

6 Minutes to read
Teams
Updated on 06 Apr 2021

6 Minutes to read
---
Share feedback
Thanks for sharing your feedback!
Teams can be accessed at: https://teams.microsoft.com/
Working Remotely Lunch and Learn - Introduction to Microsoft Teams Video
https://web.microsoftstream.com/video/83539542-d9b6-4eeb-b6b2-bd1375b318fd
Overview
Teams is a Microsoft product that allows people in different physical locations to communicate with each other. Among its uses are instant messaging (chatting) and holding remote (online) meetings with other people.
Introduction
This guide is intended for State of Maine personnel who are new to or have little experience with Microsoft Teams. It provides a high-level overview of some of the commonly used functions. Links to additional resources are included at the end of this guide, for those who wish to learn more about Microsoft Teams.
Microsoft is replacing Skype for Business with Microsoft Teams. They are similar products, so you do not need both. If you are currently using Skype for Business, you may continue to use it. There is no requirement to upgrade to Microsoft Teams at this time.
If you have neither product, but need one installed, please request a Microsoft Teams installation. This will spare you from an upgrade at a later date.
If you have any questions, please contact OIT Customer Support by email ([email protected]) or by phone (207-624-7700).
The information below is based on largely on content provided by Microsoft.
Start Microsoft Teams:
Microsoft Teams may be setup to start automatically, when you log on to your computer. If that is the case, you will see the Teams symbol on the taskbar on the bottom of your screen. It will be the icon with the letter T inside. To open it, you simply click on the icon.
If you would like Teams to automatically start, click the circle with your initials in the top right corner, then select settings: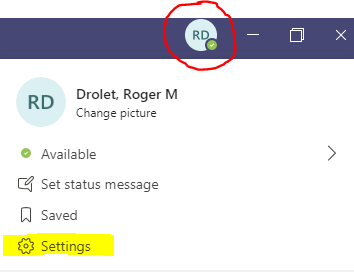 Within settings check the box for "Auto-start application".
If Microsoft Teams does not start automatically, you can start it by clicking on the window icon at the bottom left of your screen. This will bring up a list of all the applications you can start. After the alphabetical list appears, start typing the word Teams, until the Microsoft Teams selection appears, then click on it.

Start a chat in Teams
You start one-on-one and group chats the same way: by selecting the New chat icon at the top of your chat list or by right clicking Chat and selecting "New chat".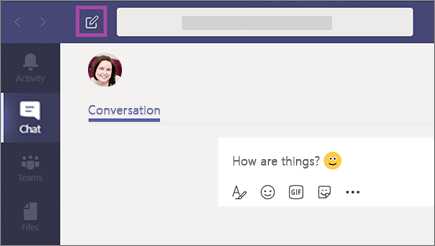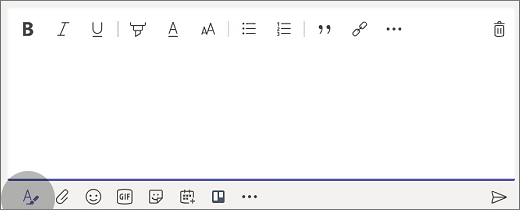 Start a one-on-one chat
Once you've selected New chat and entered the person's name, compose your message in the box at the bottom of the chat. To open your formatting options, select Format beneath the box where you type your message.
When you're ready, select Send . This starts the chat.
You can also start a one-on-one chat from someone's profile card. Open it by clicking their picture in a channel or from a search.
Start and name a group chat
Start one the same way you start a one-on-one chat: select New chat at the top of your chat list. Select the down arrow to the far right of the To field and type a name for the chat in the Group name field. Then, type the names of the people you'd like to add in the To field.

This starts a new conversation. Everyone who has access to the group chat can send messages.
You can include up to 100 people in a group chat.
Add people to the conversation
To loop more people into the conversation, just click Add people (or View and add participants in group chat) in the top right corner of Teams. Then, type the names of the people you'd like to chat with, select how much of the chat history to include, and click Add.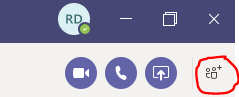 Note: When adding someone to a group chat (not a one-on-one), you can include the chat history.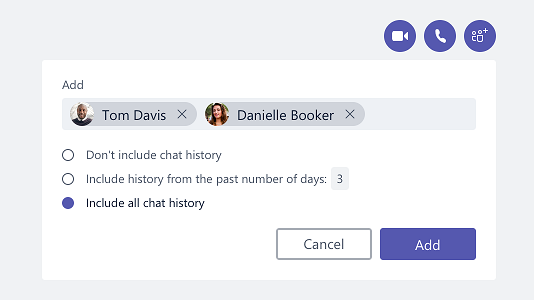 Teams will save the whole chat history, all the way back to the first message. And if someone leaves the group, their chat responses are still there in your chat history.
See who's in a group chat
To see who's in a group chat, hover over the number of participants in the chat header to show a list of everyone's names.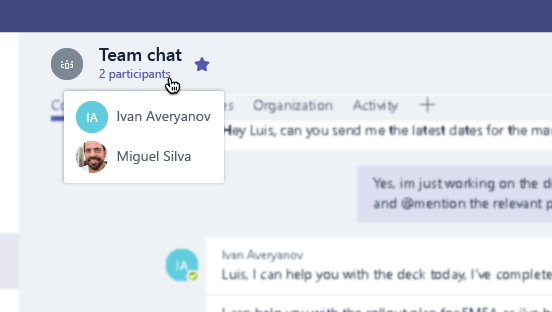 Collaborate on files using Microsoft Teams
Within each team there are channels. Think of these channels as a place for your entire team to discuss a specific topic, like upcoming training, or project updates. Each channel has its own file folder where you can share files for that specific channel. To access that folder, go to the channel and select the Files tab above the conversation window. This is also referred to as your "files library".

Note: Make sure to use the Files tab at the top of the channel conversation window instead of the Files button on the left side of the application.
In the files library you can upload existing files or create new ones. When you upload a file, it creates a copy in Teams.
Upload existing files
There are two primary ways to upload existing files into your library. Both methods start by going to the files folder for your channel and both methods, by default, upload copies of your files to the channel file folder.
Drag and drop - Using your mouse, drag the file from where it's currently located and drop it on the Teams window among the files.
Upload - Select Upload, then select the file (or files) you'd like to upload and select Open.
Any files you upload will be accessible by any member of your team. And just like in SharePoint, you can pin specific files to the top of your list for easy access.
Create a file
To create a Word, PowerPoint, or Excel document in Teams, select New, then select the kind of file you'd like to create. The new file will open in Teams so you can begin editing it, and if you'd prefer to work in the desktop version of the app, select More options to the left of the Close button on the ribbon.
As soon as it's created your new file will be available for your team members to edit as well.
Collaborate on the files
Files stored in your team's file library are accessible to every member of the Team. You and your team members can co-edit Word, PowerPoint, or Excel documents, or comment on Visio files. No need to check files out or worry about if one of your colleagues has the document open. Just open the file you need to edit and if other team members are editing it too your changes will be seamlessly merged as you work.
Schedule a Microsoft Teams online meeting using Outlook
Open Outlook and go to your calendar.
On the Home tab, select New Meeting .
Add online meeting information by selecting Teams Meeting.
Fill in the meeting information as needed, including meeting attendees. See Schedule a meeting with other people for more information.
Tips:
To find a time that works for everyone, select Scheduling Assistant on the Meeting
Select Send.

Join a Microsoft Teams Meeting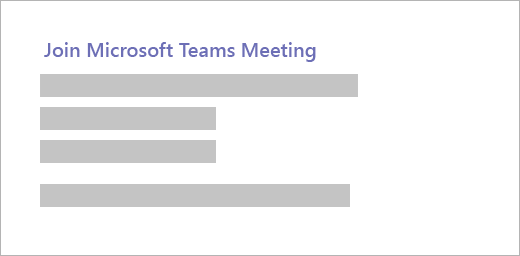 There are multiple ways that you can join a Microsoft Teams meeting.

Join by link
All you need to join a Teams meeting is a link.
Select Join Microsoft Teams Meeting in your meeting invite to be taken to a page where you can choose to either join on the web or download the desktop app. If you already have the Teams app, the meeting will open there automatically.
If you don't have a Teams account and the organizer has allowed it, you may have the option to enter your name to join the meeting as a guest. If you do have a Teams account, select Sign in to join with access to the meeting chat and more. Then, depending on the organizer's settings, you may join the meeting right away or go to the lobby where people in the meeting can admit you.
Join by phone
Even if you don't have internet access or the Teams app, you can join some meetings by phone. If it has a phone number and conference ID in the meeting invite, just dial to join.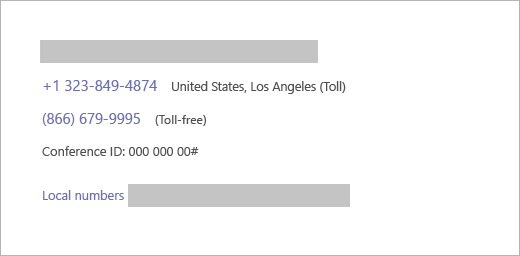 If you see a phone number in your invitation, but it's not local to you, select Local numbers and find one that works for you.


Additional Resources

Microsoft Resources:

Start a Chat in Teams - https://support.office.com/en-us/article/start-a-chat-in-teams-0c71b32b-c050-4930-a887-5afbe742b3d8
Collaborate on Files using Microsoft Teams - https://support.office.com/en-us/article/collaborate-on-files-in-microsoft-teams-9b200289-dbac-4823-85bd-628a5c7bb0ae
Setup a Microsoft Teams online meeting in Outlook - https://support.office.com/en-us/article/set-up-an-online-meeting-in-outlook-b8305620-d16e-4667-989d-4a977aad6556
Join a meeting in Teams - https://support.office.com/en-us/article/join-a-meeting-in-teams-1613bb53-f3fa-431e-85a9-d6a91e3468c9


State of Maine Resources:

The following location contains a wide variety of Microsoft Teams resources. It is located on the State Intranet, so you need to be connected to the state network in order to access them.
http://inet.state.me.us/oit/customer-service/office365/services/teams/index.html
---
Was this article helpful?
---
What's Next